Hotel History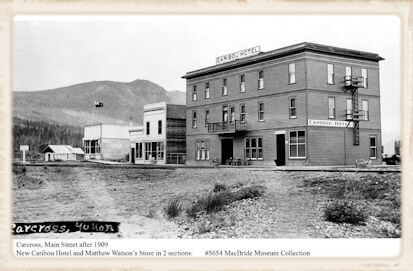 Learn more Yukon History at the MacBride Museum in Whitehorse, Yukon
The Caribou Hotel is a territorially designated historic site located in downtown Carcross Yukon.
The Caribou Hotel was originally built at Bennett, B.C. in 1898 at the start of the Klondike Gold Rush. It was then called the Yukon Hotel and was located near Friedrich Trump's New Arctic Restaurant and Hotel (Donald Trump's grandfather).
Royal Visit 2016: Carcross boasts connection to Klondike Gold Rush, Donald Trump
Following the gold rush the building was floated down Lake Bennett to Carcross in 1901 by then-owner W. A. Anderson, after whom it was renamed.
The Anderson Hotel opened in Carcross on Christmas Day 1901 and was sold to "Dawson Charlie" (credited as a co-discoverer of the gold find that began the Klondike Gold Rush) in January 1903 for a reported $9,000. Dawson Charlie completed extensive renovations on the building and renamed it the Caribou Hotel.
Following Dawson Charlie's death on January 26, 1908, Edwin W. and Bessie Geraldine Gideon rented it from his estate. Shortly after the Gideon's took over the running of the hotel, it burned down, and a new building was constructed and re-opened in 1910.
Bessie Gideon died on October 27, 1933 and since her death, it has been said that the hotel has been haunted by Bessie's ghost—a shy spirit who is neither friendly nor unfriendly. Along with doors being slammed and floors creaking, Bessie herself has been sighted—mostly on the third floor of the hotel, where she can be found putting bubbles in the bath tub, heard knocking or banging on the floorboards and seen looking out the windows.